Our values
Showcasing our terroir
We're proud of our region, so our priorities include promoting a unique heritage based on the expertise of passionate artisans who know how to get the best out of a generous but exacting environment.
Pursuing excellence
Meticulousness, patience and precision are needed to create Domaine Pinnacle Ice Cider that lives up to our reputation around the world. We maintain the highest quality standards throughout our production process.
Teamwork and collaboration
At Domaine Pinnacle, we believe in team spirit, and we unite our talented partners and artisans with our shared values of cooperation, openness and excellence that reflects the unique character of our products.
Modernity and authenticity
We're committed to offering products that satisfy our current, increasingly exacting consumers, in keeping with the uniqueness of our expertise and our convictions.

Boldness and open-mindedness
We're curious by nature and always look to push the limits of our beliefs and our imaginations to explore new horizons while staying aligned with our values and convictions.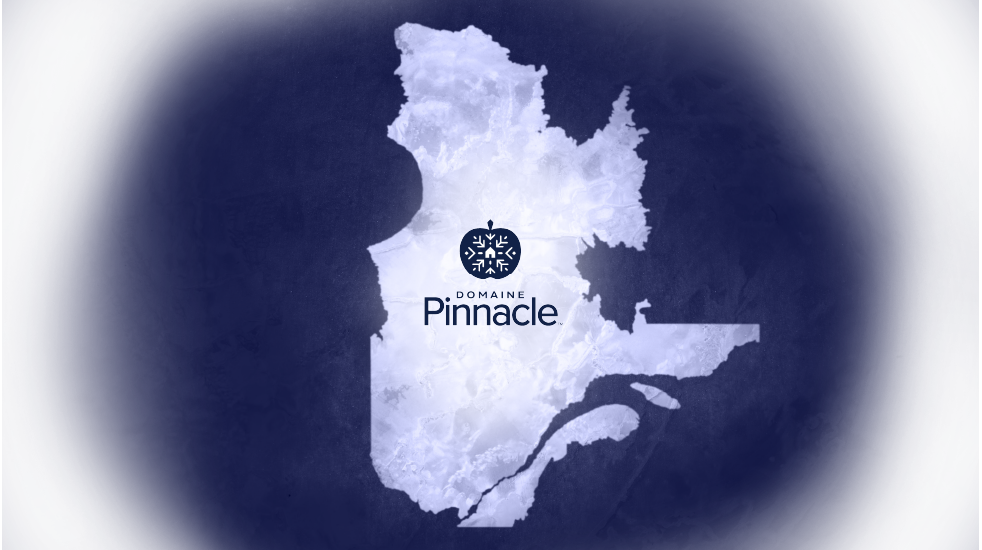 Our history
The Domaine Pinnacle adventure began in 2000 with our founders, Charles Crawford and Susan Reid. Seeking to leave the city and settle in the country, they fell for the charms of a property with an established orchard in the Eastern Townships village of Frelighsburg.
They were new to the apple and cider industry, but their vision from the start was to develop a world-class product. To do that, they turned to the authority on ice cider, Christian Barthomeuf, the inventor of this innovative and promising process. This union, which led to the development of the Domaine Pinnacle ice cider recipe, quickly showed its potential from the very first batches.
In a few years, the product became a dazzling success, surpassing all expectations. Adopted both in Québec and around the world, Domaine Pinnacle quickly became the largest exporter of ice cider, positioning the brand as a world leader in its industry.
As demand grew production has been adjusted and relocated from the small orchard in Frelighsburg to a larger site in the Eastern Townships, thus ensuring we can keep the quantities and quality required to fulfill demand.
After more than 15 years of dedication to building Domaine Pinnacle's reputation, the founders have retired from the business. The site in Frelighsburg, where Domaine Pinnacle was born has changed, and is now home to a new ciderie.
Loyal to the vision and the values instilled by our founders, Domaine Pinnacle's exceptional products continue to delight consumers at home and abroad. A new page in the story of this extraordinary brand is being written with the upcoming arrival of new gourmet products aimed at emphasizing the versatility of Domaine Pinnacle Ice Cider.

Created in Québec,
famous around the world
With unique, celebrated quality and personality, Domaine Pinnacle ice cider has crossed borders and is distributed in some 60 countries on six continents. Paris, New York, Mexico City, Tokyo and Beijing—major cities around the world have been enchanted by this new and oh so Québécois flavour. Domaine Pinnacle ice cider has won numerous gold medals at major international competitions and garnered the praises of noted wine critics, great chefs and sommeliers at home and abroad.
Winner of more than 60 prizes and accolades
Since its launch, Domaine Pinnacle ice cider has charmed the finest palates, earned the highest honours, and garnered the highest distinctions by winning more than 60 gold medals at prestigious national and international competitions, including the following:
Roger Huet,
wine columnist
Philippe Faure-Brac,
named Best Sommelier of the World 1992
Robert Parker,
one of the most influential wine critics in the world
Natalie MacLean,
sommelier and internationally renowned wine writer